Menu
How to Choose Healthy Puppy Food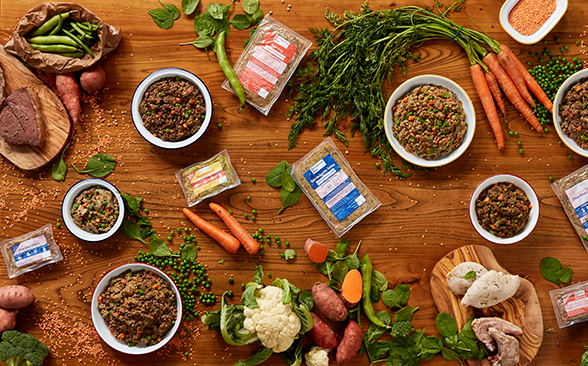 Them bones them bones. They don't need too much Calcium!
Like overfeeding, excessive dietary calcium has also been shown to increase the risk of skeletal disease in puppies. That's because puppies can have trouble regulating how much calcium is absorbed from their intestines. And that's not all. Feeding too little calcium can also lead to problems. That's why it's so important to feed, a dog food that contains the correct balance of calcium and other minerals such as phosphorus and zinc.
Large breed puppies and bone disease
Contrary to popular belief, no evidence exists to link high protein intake to bone and joint disease in large breed dogs. In fact, protein is extremely beneficial: it supports the immune system and the central nervous system, helps build lean muscle, and is required for good skin and coat health. Bone and joint disease like hip dysplasia in large breeds is the result of genetics, overfeeding or excessive dietary calcium. Since there is nothing you can do to change your puppy's genetics after it has been born, to reduce the risk of developing dysplasia it's important to avoid feeding too many calories or too much calcium. The goal is for puppies to grow at an average, rather than maximum growth rate for their breed. Our protein and Calcium content has been carefully chosen to support your dog from puppy to adulthood. And their calories are calculated according to their age, weight and body condition to ensure steady growth.
Special Caution for Canned and Raw Feeders
Canned and raw foods tend to have higher fat levels, which means they often contain more calories promoting faster growth. And unless a raw food is complete and balanced, it is more difficult to be certain of their calcium or calorie content.
Fussy eater?
If your puppy is a fussy eater, don't worry, you're not alone! Many dog owners struggled to find food their pup was happy to eat (and finish!) before trying Butternut Box. More resembling your own cooked dinner to dried biscuits, 97/100 dogs choose Butternut Box.
Sensitive stomach
Just like their owners, puppies can suffer from stomach sensitivity and can be prone to digestive issues. In the first box of food that we send out to your puppy, we include a built-in transition programme which is designed to get them used to the new flavours and textures of the meals, while also giving their digestion a chance to get used to the new ingredients gradually. This usually helps even the most sensitive of tummies adjust to a fresh, home-cooked diet with no troubles.
What Should Healthy Puppy Food Contain Then?
We believe the best puppy food should contain:
Human grade ingredients
High quality meat, not rendered meat meal, bone or animal derivatives (yuk!)
Carefully selected fibre and prebiotics
Fresh vegetables, botanicals and omega oils
No grain fillers
No preservatives
No artificial colourings, sugars or sweeteners
Butternut Box is an All Life Stages diet. This means that it has been carefully formulated by our team of expert vet nutritionists for all dog ages and breeds. So your dog can eat this food straight away as a puppy through to adulthood.
Human grade ingredients
All Butternut Box meals use human grade ingredients with our meat coming directly from local UK and Irish farmers and our vegetables from trusted producers.
Grain free
Processed dog food contains bulky grains like wheat, rice and corn. All Butternut Box meals are grain free, with our carbohydrates and fibre coming from nutritious lentils and sweet potatoes.
Protein sources
Using only human grade fresh meat, never meat meal or animal derivatives, your puppy's digestive system can process this protein with greater ease. All our meals use a single protein source, meaning if they have an upset or allergy to one meat, you can confidently offer another one.
Excellent antioxidants and omega-3s
Gently cooked vegetables, organic flax seed, turmeric, rosemary and thyme are all powerful antioxidants and omega-3 oils that promote development of a healthy immune system, brain, skin and coat.
No hidden nasties
Freshly prepared and delivered, all our food is preservative, sweetener and filler-free. So there are no strange chemicals going into your puppy's young body.
Back