Menu
Top Dog Breeds and Popular Names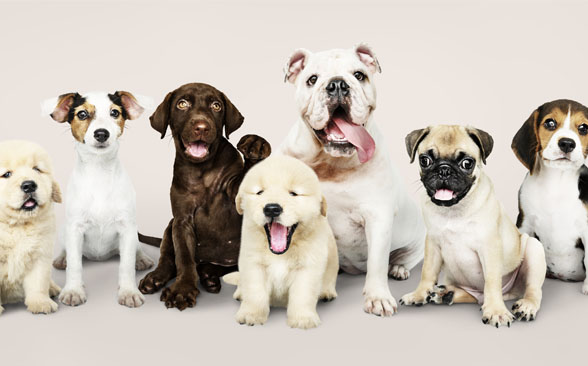 Introduction
Ladies and gentlemen, boys and girls… we have the results. Only joking, this isn't x-factor. But… this is a topic we've been discussing in the office for many months and we've finally got the data to settle our debates!
We've spent the last week analysing our database of hundreds and thousands of dogs. Why you ask? To answer the most frequently asked question; What is the most popular dog breed and what do great owners call their beloved companion?
The Gender Split
It's a tie! Between 2018 and 2019 the split between male & female dogs has been incredibly close. Just like their owners, our pets prove that the battle of the sexes is as close as ever.
There's typically more to it than just your desire to have a girl or a boy when it comes to choosing your pup. It's well known that male & female dog hold different attributes and behavioural traits. It's recommended that you do your research on specific breeds before identifying which sex is correct for you.
Dog Breeds
Let's cast our minds back and start in 2018…remember that summer where we all thought football was coming home!
Well, 2018 confirmed our suspicions. The domination of the Labrador Retriever. It sits at the top of the charts and has done for some time. So, what's changed in 2019?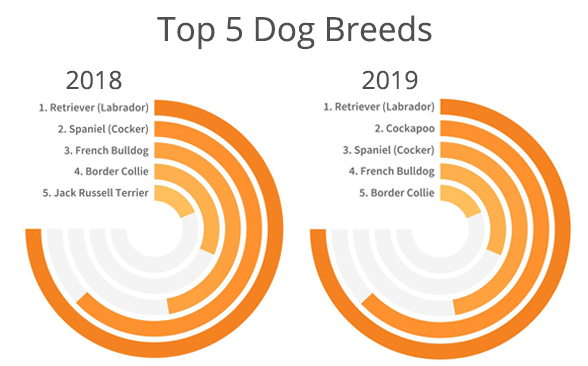 Actually, not a lot. The usual suspects are still prominent inside the top five although there's a slight change in order. However, there's one breed which has come through the ranks and has quickly become one of the most desired breeds of 2019. This rise of the Cockapoo!
From 2018 to 2019 we saw a 206% increase in new owners of Cockapoos. That's a staggering increase and there's clearly good reason for it. The Cockapoo, well known for its newly branded "designer dog" title provides owners with some of the most desirable traits. Their non-shedding coats, highly affectious natures and their ease to train has clearly played a big part in the increasing numbers.

The rest of the top 20 showed plenty of movement with only the Pug holding it's 9th place position between the years of 2018 & 2019. Interestingly, there was only one new entry into the top 20 seeing the arrival of the Dachshund in 8th place.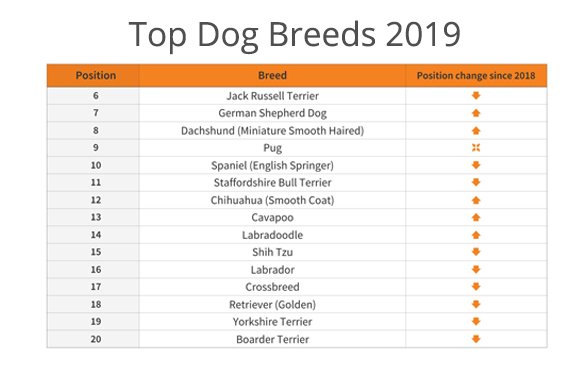 Top Dog Names
Choosing a name for your pup can sometimes be challenging. We've seen a lot of unique & wacky names normally brought to our attention from Crufts, but we'll focus on the top picks in 2019. Across the last few years we've seen very few changes in the top five. Bella & Luna have been battling it out for the top two spots over the last couple of years whilst Teddy has held the top spot for male dogs for the last two years.
Top 5 Female Dog Names in 2019
| Position | Female Name 2019 |
| --- | --- |
| 1 | Luna |
| 2 | Bella |
| 3 | Poppy |
| 4 | Lola |
| 5 | Daisy |
Top 5 Male Dog Names in 2019
| Position | Male Name 2019 |
| --- | --- |
| 1 | Teddy |
| 2 | Buddy |
| 3 | Milo |
| 4 | Max |
| 5 | Alfie |
Top Names by Breed in 2019
We took our research a little deeper to conclude our findings. We've taken a snapshot of the top 10 names by breed. For any new owners looking for breed specific information you'll find it here!
Labrador
Cockapoo
Jack Russell
Border Collie
French Bulldog

Labrador Retriever
| Position | Male 2019 | Female 2019 |
| --- | --- | --- |
| 1 | Buddy | Bella |
| 2 | Max | Luna |
| 3 | Bailey | Ruby |
| 4 | Dexter | Nala |
| 5 | Cooper | Willow |
| 6 | Hugo | Rosie |
| 7 | Marley | Tilly |
| 8 | Milo | Roxy |
| 9 | Oscar | Lola |
| 10 | Barney | Poppy |
Cockapoo
| Position | Male 2019 | Female 2019 |
| --- | --- | --- |
| 1 | Teddy | Bella |
| 2 | Milo | Lolly |
| 3 | Alfie | Luna |
| 4 | Barnie | Ruby |
| 5 | Bailey | Lola |
| 6 | Cooper | Poppy |
| 7 | Dexter | Daisy |
| 8 | Charlie | Mabel |
| 9 | Reggie | Tilly |
| 10 | Chester | Coco |
Jack Russell
| Position | Male 2019 | Female 2019 |
| --- | --- | --- |
| 1 | Jack | Poppy |
| 2 | Charlie | Rosie |
| 3 | Buddy | Daisy |
| 4 | Milo | Ruby |
| 5 | Archie | Dotty |
| 6 | Patch | Molly |
| 7 | Alfie | Winnie |
| 8 | George | Lucy |
| 9 | Oscar | Belle |
| 10 | Max | Penny |
Border Collie
| Position | Male 2019 | Female 2019 |
| --- | --- | --- |
| 1 | Max | Meg |
| 2 | Ben | Tess |
| 3 | Jack | Bella |
| 4 | Blue | Luna |
| 5 | Ollie | Jess |
| 6 | Patch | Poppy |
| 7 | Milo | Holly |
| 8 | Cooper | Cassie |
| 9 | Shep | Ruby |
| 10 | Buddy | Molly |
French Bulldog
| Position | Male 2019 | Female 2019 |
| --- | --- | --- |
| 1 | Hugo | Luna |
| 2 | Frank | Coco |
| 3 | Reggie | Bella |
| 4 | Bear | Winnie |
| 5 | Milo | Mabel |
| 6 | Bruno | Belle |
| 7 | Blue | Nala |
| 8 | Winston | Dolly |
| 9 | Buddy | Daisy |
| 10 | Stitch | Willow |
Looking to 2020
As we conclude on our findings, it's interesting to think if we'll see the rise of a new trend in 2020. Will we see a new breed climb through the ranks like our beloved cockapoo? Will a new female name overtake Belle and Luna to become the most popular name for a female pooch? Only time will tell…
Back